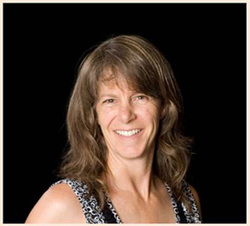 My name is Regina Kuntz and I am the owner of
Custom by Regina, LLC, creating custom bedding, pillows, draperies, cornices, various window treatments, and other fabric furnishings for my fellow Anthem residents, Scottsdale and the surrounding Phoenix Valley.

My adventures with sewing, crafts, and art began when I was young. I enjoyed drawing portraits, sewing teddy bears, quilting, and was the only female in my high school wood shop class. I love working with wood, and since creating soft furnishings often involves building wood frames (for headboards, coronas, or window treatments), this is the perfect combination for my interests. After years of working in an office, I decided to turn my hobby into a business, pursued some additional education specific to fabricating home decor, and jumped right in! I opened in 2001, serving the silicon valley area in California, then moved to Anthem, Arizona in 2005.

I keep abreast of current styles, trends, and techniques by attending professional conferences, taking fabrication classes and webinars, and subscribing to trade journals, including
"Drapery & Design Professional" which has featured some of my work. I am also a member
of the Window Coverings Association of America.
---

Call to schedule a FREE consultation
(623) 551 - 2141